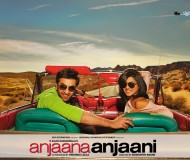 Movie: Anjaana Anjaani
Song: Tujhe Bhula Diya
Description:
Love hurts and so does the daunting task of forgetting someone. But hey! some dark chocolate ice-cream might help 🙂 Mohit Chauhan has done a wonderful job of singing this one and as usual Vishal-Shekhar maintain a consistent variety of genres. The song is relatively shorter, but I have create 9 parts to the song because there are quite a few fast notes to play. It sounds great on strings being a semi-qawwali genre? Feedback & suggestions are always welcome. Keep rockin! those keys!