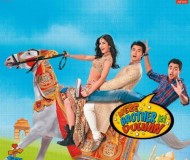 Movie: Mere Brother Ki Dulhan
Song: Isq Risk (Kaisa yeh ishq hai …)
Description:
This one is a beautiful song on the irony in the 'Falling in love' . Like every other song, Rahat Fateh Ali khan makes this one too seem so easy to sing and the harmonium in the background gives a great melodious touch to the song. Though it seems easy to play there are quite a few overlapping notes to be played fast. Have fun learning & playing this one too. Feedback & suggestions are always welcome. Keep pushin! those keys!