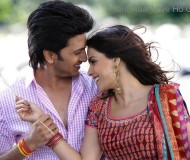 Movie: Tere Naal Love Ho Gaya
Song: Piya O Re Piya
Description: This song is a beautiful composition by Sachin and Jigar. They have assisted numerous music directors like Pritam, Rajesh Roshan and many more. Their, Party abhi baki hai from F.A.L.T.U. became an instant rage soon as it hit the stores and they have continued to entertain in various genres. I have played the song on the piccolo tune. There are 9 parts in the song but most of them are similar and are just variations here and there. As always, feedback & suggestions are welcome. Keep Playin! Those Keys!